CyberArk Privileged Account Security Solution, is designed to discover, secure, rotate and control access to privileged account passwords used to access systems throughout the enterprise IT environment.
ENTERPRISE PASSWORD VAULT
Secure, rotate and control access to passwords, SSH keys, and privileged credentials based on policy to prevent attacks and meet audit and compliance requirements.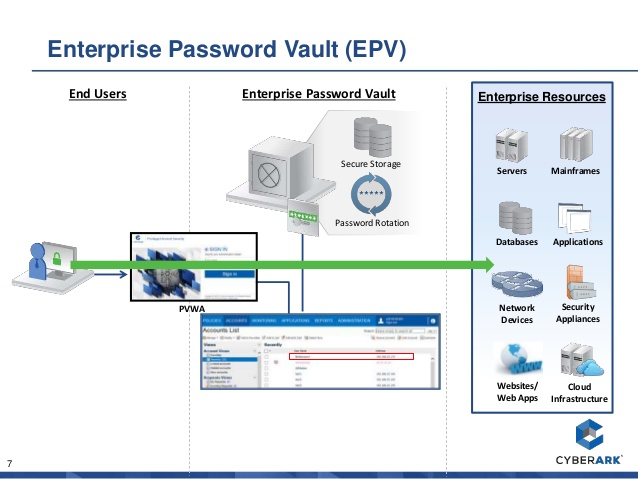 PRIVILEGED SESSION MANAGER
Secure privileged user sessions, protect target systems and enable privileged account access without exposing sensitive credentials leveraging a secure jump server. Monitor and record privileged sessions to meet audit requirements and stop privileged sessions real-time.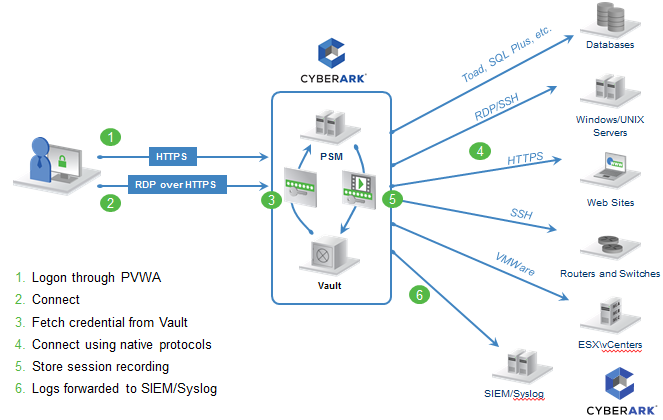 PRIVILEGED THREAT ANALYTICS
Provide intelligence to detect, alert and respond to anomalous privileged activity. Leverage data from multiple sources, including the CyberArk Digital Vault, SIEM and the network, to detect indications of compromise credentials early in the attack lifecycle.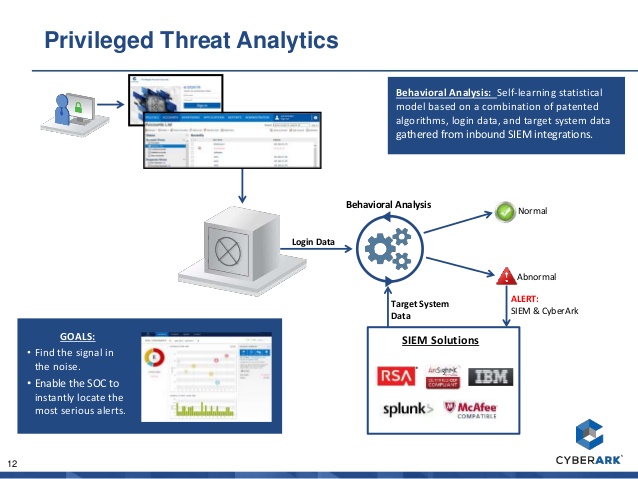 AIM / CONJUR
Secure application and DevOps secrets used by machines and privileged users with a solution that supports physical, virtual and containerized architectures, both on-premises or in the cloud.
ON-DEMAND PRIVILEGES MANAGER
Reduce risk from *NIX super-users with a secure and enterprise-ready sudo-like solution that allows privileged users to run authorized administrative commands from their native Unix or Linux sessions while eliminating unneeded root privileges.
ENDPOINT PRIVILEGE MANAGER
Enforce least privilege, control applications and prevent credential theft on Windows and Mac desktops and Windows servers to contain attacks and stop lateral movement.
SHARED TECHNOLOGY PLATFORM
The CyberArk Privileged Account Security Solution leverages a shared technology platform that improves operational efficiency and integrates seamlessly into your existing environment
DIGITAL VAULT
CyberArk's Digital Vault is hardened for on-premises and cloud deployments with multiple layers of built-in security for authentication, access control, encryption, tamper-proof storage, and data protection.
DISCOVERY ENGINE
The CyberArk Accounts Feed discovers user and service accounts, SSH Keys, secrets and other privileged credentials so you can assess the size and magnitude of your privileged account security risk.
SECURE AUDIT
CyberArk provides centralized, tamper-proof audit records for all privileged access activities, with personal accountability for any access or usage of shared privileged accounts.
Example high level design diagram